Su publicación lo puso en la mira de la Asociación Inglesa de Fútbol, que abrió un expediente disciplinario.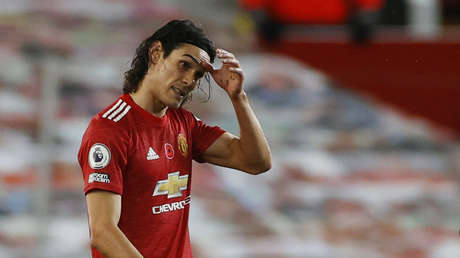 El futbolista del club Manchester United Edinson Cavani se ha disculpado este lunes por una publicación en redes sociales luego de que la Asociación Inglesa de Fútbol (AF) iniciara una investigación por presunto racismo.
Este domingo 29 de noviembre, el delantero uruguayo escribió en su cuenta de Instagram "gracias, negrito", en respuesta a uno de sus seguidores, que lo felicitó luego de su doblete en la victoria de su equipo frente al Southampton ese día. Esto puso al delantero en la mira de la AF, que en el marco de su lucha contra la conducta ofensiva y discriminatoria catalogó el comentario de racista y abrió un expediente disciplinario.
Esto potencialmente podría costarle una suspensión de al menos tres fechas, asegura el diario británico The Sun.
Tan pronto como se le informó a Cavani que su mensaje podría malinterpretarse, el futbolista lo borró de su perfil. Asimismo, aclaró que sus palabras pretendían ser "un saludo afectuoso a un amigo". "Lo último que quería hacer era ofender a alguien. Me opongo completamente al racismo y eliminé el mensaje tan pronto como se explicó que se puede interpretar de otra manera. Me gustaría disculparme sinceramente por esto", aseguró El Matador, citado en un comunicado emitido este 30 de noviembre por el Manchester United.
Los Diablos Rojos creen que no hubo "absolutamente ninguna intención maliciosa" detrás de la expresión de Edinson y han manifestado que tanto el club como sus jugadores "están plenamente comprometidos con la lucha contra el racismo".
Aunque el término 'negrito' puede utilizarse con intención amistosa o cariñosa en diferentes regiones de Sudamérica, su empleo en el Reino Unido va en contra del reglamento de la AF. En este contexto, es probable que el máximo organismo del fútbol inglés actúe de cualquier forma bajo la premisa de castigar todos y cada uno de los casos en que se use lenguaje discriminatorio. Así, el ente deportivo deberá decidir antes de este miércoles si contactar a Cavani para escucharlo o poner en marcha una sanción, subraya The Sun.
El caso del uruguayo trajo a colación un incidente protagonizado por su compatriota y exjugador del Liverpool Luis Suárez, quien en 2011 recibió una sanción de ocho partidos por llamar repetidas veces "negro" al francés del Manchester United Patrice Evra en un roce durante un partido.