Israel has enlisted 20 foreign NGOs from around the world whose representatives are no longer allowed to travel to the occupied territories for advocating boycotts of the Israeli regime over its treatment of the Palestinians and occupation of the Palestinian territory.
According to a Sunday statement by Gilad Erdan, Israel's strategic affairs minister, the so-called blacklisted groups were the main ones that "operate consistently and continuously" against Israel launching a "campaign of incitement and lies."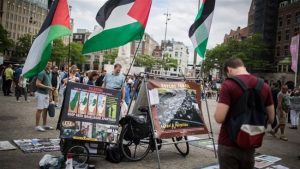 The publication of the list of the NGOs from Europe, the United States, Chile and South Africa came after the Israeli Parliament (Knesset) passed legislation in March preventing foreign nationals who have publicly called for a boycott of Israel or work on behalf of a group that supports these measures from entering the occupied territories.
The Boycott, Divestment and Sanctions Movement, commonly known as the BDS Movement or the BDS, which is now a global campaign, was initiated in 2005 by over 170 Palestinian organizations to initiate "various forms of boycott against Israel until it meets its obligations under international law."
It is not clear how the new ban will be enforced, but it could affect thousands of people.
Among the groups is the US-based Jewish Voice for Peace, which has more than 13,000 members, the Paris-based Association France Palestine Solidarite, British charity War on Want and the American Friends Service Committee.
Erdan further said they had "moved from defense to attack," adding that the boycott organizations needed to know that Israel would act against them and would not allow them to enter the occupied territories "in order to harm" the Israeli settlers.
A boycott campaign against Israeli goods in the US is gaining momentum at American universities.
Back in November, Tel Aviv, which sees the BDS as a strategic threat, denied entry to an American employee of Amnesty International as part of its anti-boycott move. However, Amnesty did not appear on Sunday's list.
Thousands of volunteers worldwide have joined the BDS to help promote the Palestinian cause, including scores of international trade unions, NGOs, scientific institutions, academic societies, business associations and cultural figures.
The BDS campaign is also gaining momentum on college campuses and churches in the United States.
Rights groups have already slammed the so-called law as "thought control" and the BDS itself says that such a crackdown on boycott advocates is indicative of the movement's fast-growing success.