TEHRAN (FNA)- Iran called on the international human rights bodies to precisely investigate the horrible crimes committed against the indigenous Canadians, blasting Ottawa for lies about advocacy of human rights.
"Every time I hear such reports (about mass graves of indigenous people in Canada), I think that Canada is like a professional thief standing in the street shouting thief! thief! A country that for many years, knowing its disgraceful record of trampling the rights of indigenous people, has been trying to portray itself as a defender and activist of human rights with lies and deceptive acts," Foreign Ministry Spokesman Saeed Khatibzadeh said on Monday.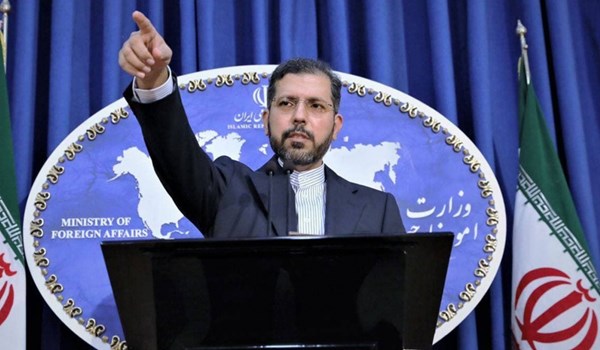 Noting that all these human rights gestures by Canada are aimed at diverting the public opinion, he said that the truth will not remain hidden forever.
"The fact that the Canadian government is trying to put the blame for these crimes on the Church shows that it has not yet accepted its unquestionable responsibility and is not taking any action to fully address the concerns of indigenous Canadians and the international community," Khatibzadeh said.
He referred to the discovery of 750 graves from a single school, while many other boarding schools remain uninvestigated, and said, "From any point of view, an embarrassing genocide has taken place in this geography, and the reason that Iran and other countries are calling for an international investigation under the auspices of the UN is the fact that the Canadian government has shown that it is not qualified to deal impartially with this bitter incident in its history."
Investigators found more than 750 unmarked graves at the site of a former indigenous school in Canada.
It comes just weeks after the remains of 215 children were discovered at another school in May.
Chief Bobby Cameron, of the Federation of Sovereign Indigenous First Nations, said, "We are treating this as a crime".
He warned how he expected more graves to be found on residential school grounds in Canada.
And Chief Cameron vowed not to stop "until we find all the bodies", describing the tragedy as a "crime against humanity, an assault on First Nations".
The 751 graves were found at the Marieval Indian Residential School, open from 1899 until 1997, where Cowessess is now located.
The graves had markers in the past which were removed by people operating the school, Chief Cadmusn Delmore of the Cowessess First Nation told a news conference.
The reserve is about situated about 87 miles east of Regina, the capital of Saskatchewan, in western Canada.
Adults as well as children are believed to have been buried on the site, said Chief Delmore.
"We are not asking for pity. We are asking for understanding," he said.
"We didn't remove the headstones. Removing headstones is a crime in this country," he said, adding, "We are treating this like a crime scene."
The remains of 215 children – some as young as three – were found buried on the former site of Canada's largest indigenous school, near Kamloops, British Colombia, in May.
More than 150,000 indigenous children were forced to attend state-funded Christian schools – many run by Roman Catholic missionaries – from the 19th century until the 1970s.
The Canadian government apologised in 2008 after admitting students suffered physical and sexual abuse and were beaten for speaking in their native languages.
Up to 6,000 are said to have died.
The Pope described his anguish following the discovery of the 215 bodies, urging religious and political parties to investigate "this sad affair".
But he has not offered the apology sought by First Nations and Trudeau.
Chief Delmore said last month, "The Pope needs to apologise for what happened."
"An apology is one stage in the way of a healing journey," he added.